You know you want it, baby, GeneCo's got it!
Repo! The Genetic Opera is a 2008 horror/sci-fi rock opera directed by Darren Lynnn Bousman (mainly known for his directorial work on the SAW film series) and written by Darren Smith and Terrance Zdunich. Despite disappointing reviews and box office numbers, the film has gained cult classic status and many people love it for its campy, bloody, unique vision.

Go watch it for free here if you haven't already!!

The film takes place in a not-so-distant future in which the world has been ravaged by an epidemic of organ failures. GeneCo, a giant corporation, offers organ transplants on a payment plan. The catch? If you fail to pay up, a Repo Man will come to cut the organ out and return it to the company. Repo follows Shilo, a girl who has remained isolated in her victorian gothic home for her entire life due to a mysterious blood disease, genetically passed on from her late mother Marni, that her father gives her medicine for. As she turns 17, she starts to sneak out of the house and rebel against her father, Nathan. Little does she know, Nathan secretly works as a Repo Man for Rotti Largo, the founder and president of GeneCo. When Rotti learns that he is terminally ill, he realizes that none of his three children are fit to take over the company and instead sets his sights on Shilo... It all ends with a "bang!" at the Genetic Opera, hosted, of course, by GeneCo.

For character descriptons, hover over their pictures on each sidebar.

&nbsp Details & Main Cast &nbsp



&nbsp Fun Facts! &nbsp

Joan Jett makes an appearance during the song "Seventeen" as the band's guitarist.

Because of it's cult following similar to Rocky Horror Picture Show, many theatres also put on shadowcast performaces of Repo! (with plenty of fake blood, of course).

When the film came out, many of the main characters had profiles on Myspace. They were considered "official", since the Repo! website directly linked to these pages. It can be debated, though, as to whether all of the info on the pages are cannon, considering there are a few inconsistencies and the pages were not run by Darren Smith or Terrance Zdunich.

According to Pavi's page, he is bisexual!! I also think it's funny that one of his favorite books is 120 Days of Sodom.

I was also able to find Amber Sweet's page, which really solidifies how vapid she is. Her brothers also left some pretty funny comments on there: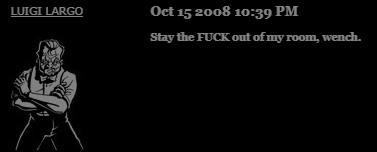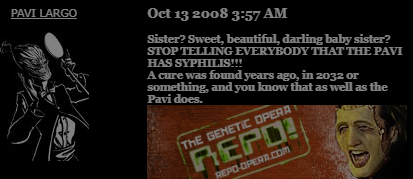 The idea for Repo was originally conceived in 1996 by Darren Smith, who was inspired to write a distopian story after one of his friends went into bankrupcy and his things were being repossessed.

Some people have claimed that this film plagiarized another film called Repo Men because they share the same premise, but Repo Men was based on a book published in 2009 and came out in 2010, two years after Repo! The Genetic Opera. Plus, as just outlined, Darren Smith got the idea back in 1996.

Repo! was originally titled The Necromerchant's Debt and was first performed as a stage play in 2002 at the John Raitt theatre. The characters and plot underwent a lot of changes before the film was eventually picked up by Lionsgate.

Despite several members of the cast and crew expressing interest in creating a sequel (the film was conceptualized as a trilogy), lack of funding and other problems made it impossible. Instead, Bousman and Zdunich collaborated on The Devil's Carnival, a 2012 horror musical starring several of the cast members from Repo! In 2016, they also created the sequel: Alleluia! The Devil's Carnival.